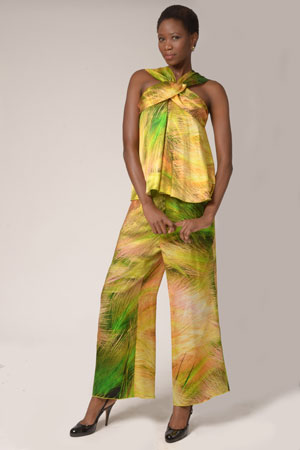 Click the thumbnails to see a larger image.
Style # JM  202
$495.00
Feathers—feathers—and more feathers—this two-piece 100 % silk charmeuse party-wear ensemble is delicate to the eye yet sultry, unique and bold. That is the persona that is felt when you step into this luxurious silk flowing fabric. Our message is to awaken the feminine energy inside every woman. This handsome piece honors exactly that! The top has a self-facing lining with elastic for support and comfort.
We recommend dry cleaning only of this garment for lasting results.
Please join our mailing list and stay connected.
Thank you!



 Tweet
Matching Bow Tie is available
on Accessories page.
Click on bow tie