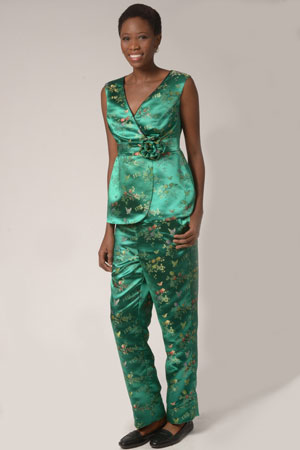 Click the thumbnails to see a larger image.
Style #  JM 203
$295.00
This elegant Green Asian Brocade leaves you feeling refreshed as you WOW your admirers. It will soften even the most hardened hearts as you walk into the room with confidence. You will radiate calmness in this 100 % polyester fabric that is soft, and invitingly elegant. This is a lounge wear garment featuring an easy style leg and a comfortably fashioned top accented by a green petal flower. It definitely goes with you because you can dress it up for evening engagements or be casual with jeans or leggings. Allow this fabulous design to inspire your day and keep you uplifted with its diversity of style.
We recommend dry cleaning only of this garment for lasting results.
Please join our mailing list and stay connected.
Thank you!


 Tweet